"I am the queen of Vampires, do you not fear me!?"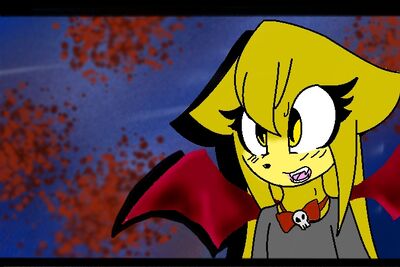 ~ Sosanna
Basic Bio
Edit
Name: Sosanna Dracula
Age: 123,542 years old [Looks ten through]
Species:... Um... Well, she is a vampire...
Gender: Female
Personality: She can be childish due to how she is treated, but otherwise rather cruel, rude and evil.
Likes: Blood, darkness, her castle, dark shade of colors, and evil plans.
Dislike: Pink, sunlight, crosses, garlic and priest/priestess
Powers:
Charm - ... Does this really work?
wings - Because she is the vampire queen, she can fly with wings.
Invisiable - Able to 'vanished'
Teleport - Only from where she is to her castle.
Summon - Can summon any evil minion to her side.
Relationships
Edit
Craig - Servent? Maybe? He is only one that so far respect Sosanna as a Vampire Queen, so he get bonus points for that.
Theme songs
Edit
[Working on]