"ALL YOUR SLAVES BELONG TO ME! o3o" ~ Y-Tiger the Goddess of Randomness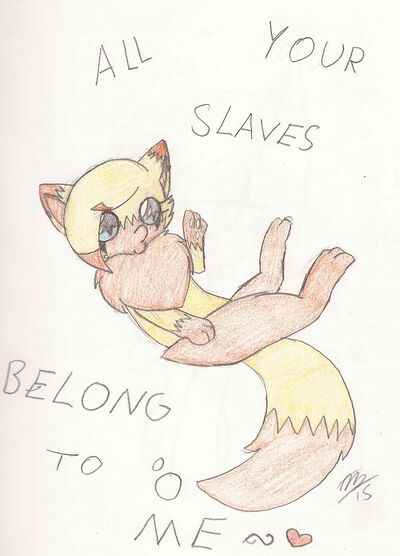 Bio
name = Y-Tiger (Lavity)
full name = Lavity Haven
nickname = Y-Tiger
gender = Female
age = 17
species = Fox spirit (Kitsune that turns into a human)
personality = Random, cheery but can be extremely emotional.
residence = RandomZone
occupation = Goddess of Randomness
alignment = Unknown
height = Bite size (5'6 humans)
weight = Unknown (96 lbs in human form)
attire = Human form: black shirt with long sleeves and jeans.
hobbies/talents = Randomness
likes = Randomness, friends, cookies
dislikes = Logic, people attacking her friends.
relatives = -unknown-
friends = FroZenHybrid, Xavek(Saren the Dark Lynx), Sovash, Alphonse -inform me in comments-
love interest = -unknown-
neutral = -unknown-
rivals = -unknown owo-
enemies = -unknown owo-
theme = ALL YOUR SLAVES BELONG TO ME! o3o}}
Background
Lavity, or known as Y-Tiger, is a weird Kitsune(W.I.P)
Powers
Randomness, Able to turn into human, Able to turn into Mobian form, Has a dark form. She can't pull everything out at once through, if she uses too much of her powers she will be pretty much a normal human for the rest of the day. (This would involve being able to summon a car or ship, meaning anything bigger than her drain her completely for a day.)
Lavity can also get if she tries to stop something better than her from hitting someone, but she also gets sick when trying to force her powers out when stuck being in human form. She gains a high fever and becomes very useful.
Family
Sister: Nami
Rivals
Enemies
New Gallery
Old Outfits/forms